Wild Orient Slot - Play Now!
---

Wild Orient Slots is an online casino slot with the most interesting and the most original solutions when it comes to slots. Trust us, you'll want to give it a spin!
Oriental motif, and the music during the game, will draw your attention, and if you let go, it will relax you, as well. If you are a nature lover this slot is clearly aimed at you, with a wide variety of Oriental wild animals and a bamboo laden jungle to play in. The wilderness of the Orient has been a subject of fascination from ancient times when Alexander the Great conquered parts of Central Asia and North-Western India in 330BC. Even today huge parts of SouthEast Asia remain uncharted by modern man. Dare you explore the untamed wilderness to unlock the secret riches of the Wild Orient?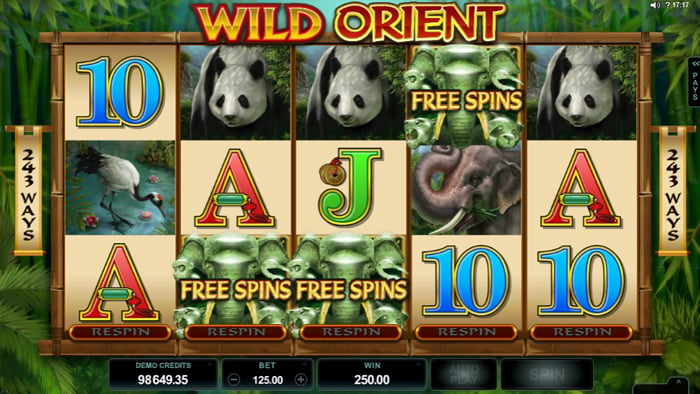 No winning steaks, just 243 combinations. Practically, all you need is to get one symbol in each reel and you will win.
Of course, there are wild symbols that can appear only in the second and third pay line, there are Scatter symbols, where at least 3 Scatters generate the Bonus Game with 15 Free Spins and triple each winning.
However, the most important novelty is the new option with slots, called Respin.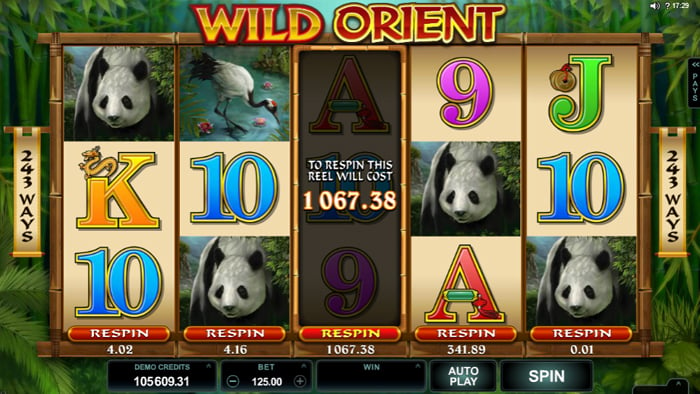 Surely, you had an experience playing slots where one proper symbol was missing in one of the reels for the full win. This slot offers the solution for that problem.
Namely, each winning line can spin separately and combined as well, you can create an ideal combination of symbols, where the price of each separate spin is stated underneath the Respin option.
This is very important when it comes to large value symbols. Be sure to calculate precisely how much the winning might be and how much each spin will cost. If the winnings are large, such as the ones in the example picture shows, with 5 bear symbols winning 10,000 points, the risk might pay off. Make sure to give this slot a spin - the colorful and bright visual design and the amazing animation bring aesthetic enjoyment and the marvelous oriental soundtrack will please your ears. Don't wait - try this slot now.
---